This is a sponsored post written by me on behalf of Wendy's for IZEA. All opinions are 100% mine.
Down in the South, barbeque is a way of life. We eat and breathe BBQ around here. When I first found out Wendy's was bringing BBQ to their restaurants I got super excited because you can never have too much BBQ. I mostly love how Wendy's went about bringing BBQ to their restaurant. They didn't just throw some sauce together, no they took the time to travel the USA in search of real BBQ flavor.
They stopped at various festivals and BBQ joints to experience BBQ around the USA firsthand. Wendy's finally came up with the perfect flavors after taking inspiration from local pit masters. Now that you know the story of how Wendy's' BBQ came about, this is how they do it a little different.
Wendy's Pulled Pork Sandwich is only made from the best, most tender, and the most premium lean pork shoulder on the market. The meat is slow cooked for hours and of course with real hickory chips. I love that Wendy's doesn't just offer one BBQ sauce on their sandwiches, they give you the choice of THREE different sauces. *Try all three if you can, you won't regret it. Your three choices are smoky, spicy, and sweet. I personally am a huge fan of the spicy version.
For a limited time, you can get your taste buds on both the Wendy's BBQ Pulled Pork Sandwich and Pulled Pork Cheese Fries. Wendy's Pulled Pork Cheese Fries feature natural-cut fries, with a topping of rich cheddar cheese sauce, hickory-smoked pulled pork and diced red onions and topped with a choice of three sauces. The pair is offered at Wendy's nationwide but participation may vary.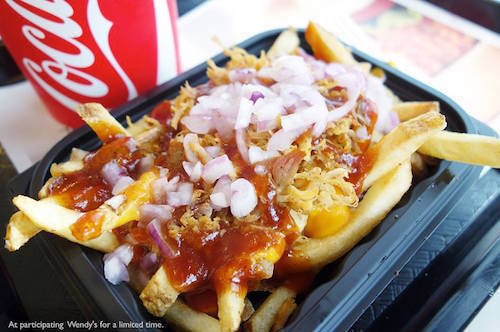 Don't miss out on the fact that Wendy's is at it again. They are serious about keeping their BBQ craft perfected, so Wendy's R & D will travel the country and visit local pit masters. On the road trip through the BBQ Belt, they will stop at two local barbecue joints to highlight two high quality aspects of their BBQ, the premium pork shoulder and three custom-crafted sauces.
Want to know the uncovered secrets of pit masters across the Nation? Visit YouTube to play Wendy's "Crack the Masters" interactive game. Learn more at the Wendy's Website.