River Street Sweets was founded in 1973, by a mother and daughter, Georgia Nash and Pamela Strickland, who were looking for a new opportunity and decided to open a quality gift shop in historic Savannah, Georgia. They agreed their gift shop would abide by three unwavering standards: incomparable product quality, dedication to an unmatched customer experience and originality.
In 1978, they spent weeks tasting and testing and the World Famous Praine recipe was born, and the buttery, pecan rich delights soon became their signature item. Not long after the World Famous Praline recipe turned the family business into River Street Sweets. The company added delicious sweet treats like Sugar and Spice Pecans, Taffy, Glazed Pecans, Chocolates and Log Rolls. The concept of a truly Southern candy store had arrived.
Life of a Southern Mom received a huge sampling of River Street Sweets just in time for the holidays that we can enjoy including the Holiday Grab Baskets that serves 6-7, Gourmet Popcorn Trio and Nutty Favorites. These handmade Southern candies are made fresh daily and all of their recipes rely on old fashioned candy making methods, with no preservatives.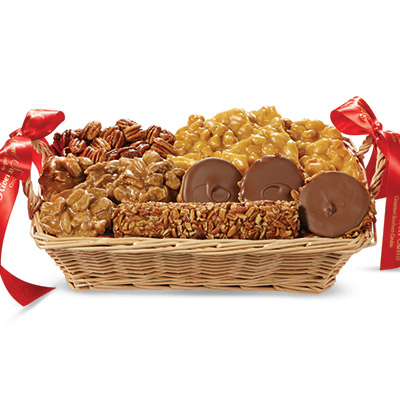 The Holiday Grab Baskets come packaged in a cute rectangle wicker basket with two red bows. Inside it has the World Famous Pralines®, Glazed Pecans, hand-stretched Pecan Brittle, a fluffy nougat Log Roll and Milk Chocolate Bear Claws. This Holiday Grab Basket can be purchased for 2 over 25 people. Prices vary depending on how many are being served. This basket is perfect for teachers, neighbors, co-workers as it has plenty of yummy treats.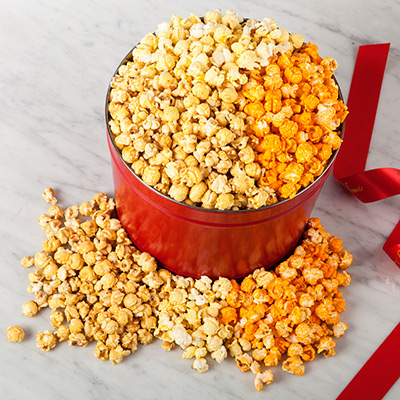 The Gourmet Popcorn Trio is a popular product during the holidays. It comes in a two-gallon festive  holiday tin that holds three delicious assortments of the traditional popcorn, caramel popcorn and cheddar cheese popcorn. You can serve as Christmas parties, class parties, dinner parties or anywhere and everyone will have a choice to choose from. $36.95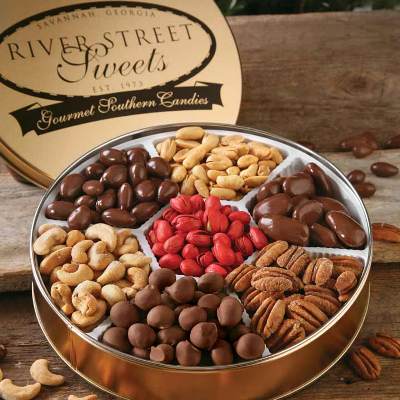 The Nutty Favorites are my favorite because I love nuts; from peanuts to almonds you can't go wrong especially when chocolate is involved. This gold tin is approximately 32 ounces and has many different assortment of nuts like Chocolate Almonds, Chocolate Peanuts, Chocolate Pecans, Roasted Pecans, Roasted Cashews, Gourmet Salted Peanuts and Pistachios. This is definitely perfect for any nut lover you may know. Enjoy at home or work. $39.95
Give a gift this year Christmas that anyone would enjoy. Visit River Street Sweets to see all their delicious products.
Find a store near you. Get a Free Brochure here. Watch how River Street Sweets are made with these videos.
Connect with River Street Sweets on Facebook l YouTube
*Photo Credit of products to River Street Sweets*
*This blog received one or more products mentioned above in exchange for an honest review. All opinions are my own.*